House of Worship
Houses of worship can vary from an Apostolic church to a Zen temple. With a variety of tailored coverages that can be purchased together or separately, our coverage offers all faiths and denominations the peace of mind they deserve. All religious organizations are a sacred place for members and guests, and maintaining proper insurance is imperative to protecting the mission of each place of worship.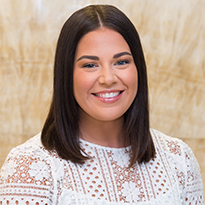 Email Alyssa Zacckey →
Assistant Vice President,
Human and Social Service Product Leader,
New Business Team Leader
877-977-4474, ext. 7023
Insurance policy highlights can include:
Church members are automatically included as additional insureds

Fundraisers, special events and outreach activities are automatically included and do not need to be scheduled in the policy

Optional certain criminal or civil proceeding defense reimbursement cost coverage
Emotional distress and mental anguish are included within the definition of bodily injury
Pastoral professional coverage available
Abuse and molestation sublimit of $100,000/$300,000 available at no additional cost, with the option to increase to $1 million
Coverages can include:
General liability
Property
Directors and officers
Employment practices
Hired and non-owned auto
Additional coverages available:
Abuse and molestation
Crime
Equipment breakdown
Inland marine
Pastoral professional liability
General Liability
After a religious service, a congregant tripped on a crack in the concrete and tumbled down an outdoor flight of stairs, resulting in a concussion.
A volunteer was decorating a church for a social gathering. She then lost her balance while standing on a chair to arrange decorations and fell, resulting in severe arm injuries.
Property
A fire destroyed a church sanctuary, and resulted in smoke and water damage to the structure and contents of the administrative office. In addition to replacing fixtures, furnishings, equipment and inventory, the church needed to rent space for worship services until the sanctuary was rebuilt.
Directors and Officers
A church elder breached his duty of loyalty by organizing a majority of the congregation into a separate church that ousted the remaining congregation from church property. The elder held secret meetings among his supporting faction and prepared legal documents to transfer the property, all without informing the church's pastor of his plans. The court ruled that the elder owed a duty to the whole congregation, and could not favor the interests of the majority over the minority. As a result, the property was returned to the original congregation and money damages were assessed personally against the elder.
With its membership growing rapidly, a church's board of directors appointed a new building committee to find land for a larger church. The board selected one of its members to head the committee. That director steadily pressed the committee to approve purchase of a land parcel viewed by the other committee members as pricey, but otherwise perfect. After much discussion, the committee approved the purchase, and the transaction was completed. It was then discovered that the committee head had a financial interest in the property. Several congregants took action and named the committee head and the overall board in a lawsuit alleging improper self-dealing, negligence and fraudulent conduct.
Employment Practices Liability
The director of children's ministries was terminated and replaced by a younger Caucasian male, who she believed was being paid more than she was. She filed suit with the EEOC against the ministries, alleging racial discrimination, age discrimination, sex discrimination, and pay discrimination.
Abuse and Molestation
A Sunday school teacher was accused of sexually molesting a teenager after a bible study session. The teacher quickly denied the charges but was forced to step aside pending a church investigation. After a thorough inquiry, the alleged victim's credibility crumbled when it was reported that she had a long history of inventing stories about herself and others. Moreover, parents and students who knew the teacher offered evidence that raised serious doubts that the molestations could have occurred. After an exhausting investigation, the teacher was eventually reinstated to his duties. The cost alone of defending allegation with no merit was costly.
Equipment Breakdown
A cracked section of a cast iron boiler resulted in replacement of the boiler and $9,000 in property damage. Worship services also had to be relocated to an available facility nearby for an extra expense of $1,500.
Pastoral Professional
The wife of a married couple sought counseling services from their pastor due to being physically abused in the household. The victim was contemplating divorce and sought advice, but the pastor encouraged her to stay with her husband due to the sanctity of marriage and to seek couples counseling. As a result, the wife returned to the abusive relationship and was later hospitalized with severe injuries from her husband. She then sued the church and pastor stating that as a result of the counseling advice, she stayed in the unhealthy marriage that led to her injuries.